Out of Character
MineCraft account name: Casper98dk
Country of Residence and Time Zone: Denmark, UTC +1
Define roleplaying in your own words, do you have any past roleplaying experiences? Some years back, me and some friends played some paper and pencil, RP, every last Sunday in the month.
What is your reason for applying to this server? I like Roleplaying, and i was on the old Ruined world server
Have you been banned before, if so why? No.
Do you agree with our rules? Yes and i find all of them good.
Will you use the server's official texture pack? Yes! Ofc.
In Character
Character name: (Last names aren't required)Catan Bruce
What is your character's race?: Herboxtians
Your character's story so far:
You see some fire in the distance and walk to it, you see a stranger in some sort of desert camouflage suit, He says "welcome, how are you" but doesn't even turn his head to say this. You sit on the ground."What brings you here?" he say with a mysterious voice. You answer that you are a nomad and he ask if you want to hear his story, and you polite answer "yes".
"I had a nice life, well as nice a life could be in this hell, i lived with my family in a little village, everything was good, we lived mostly on trade and such. But, one day some raiders came and attacked the village, they didn't find me and my good friend, luckily. They came, there were screams lots of them"
a tear falls down his chin and continues:
"our families were strapped to poles, still alive, and then they were poured over with gasoline, I don't get how the raiders got the gasoline. Then they were put on fire, one by one, and they waited until the last one were completely dead before they started the next person."
The stranger begins crying, he is still a kid, only around 16-17 years old! You don't really know what to do but finds it natural to go give him a hug. After a while the stranger continues:
"Me and my friend sneaked out as silenced as we could after a while we were outside the village and we began to run, run the fastest we ever ran before. It became night time, and the village was just a dot with smoke coming up from it. We had some survival training so he made a fire, and I made a spear and scouted for an animal to eat. I didn't find any that night."
The stranger stops talking and puts a log on the fire.
"Many night past by, we found something strange old food, i don't know if it were safe to eat but it was definitely more dangerous not to eat anything. We found a small city, 500 people lived there more or less, the city were build on some sort of bomb testing thing and people there were strange, weird. We got some food by prostituting our self. We did what we needed to get food. Apparently lots of people in the new world like to see small children bodies, god damn it… we were only 7 years old!
One of our customers kidnapped my friend. I haven´t seen him since."
He stops his story and a new tear leaves his eye. He then continues.
"I lived that way for 2 years more or less and then I just.. I just left, i couldn't take that life anymore so I just left. During the 2 years I stole some stuff and found stuff so I some day could leave the city, so I did that.
I left the city, traveled for some years, nothing special happened, I was what you might call a scavenger. Walked trough a lot of ruins, broken crap is worth much, I did not see any people on my walk, but it was okay… I guess. Doing my walking I searched for signs, anything, that could tell me where my friend was. I am still searching but I can't find anything. Soon more and more people moved to the area and I began earning money, so much I did not need to eat rotten stuff anymore, and it became permanent for me to be a nomad.
But one day, I got this… letter, I found it in my tent when I woke up, somehow someone had been in there and left it there for me. I looked around the room, and stuck my head outside the tent, to see if anyone was anywhere near the tent. I couldn't see anyone. I had traps all around the tent. But nothing was touched. It shouldn't be possible.
I went back inside and read the letter. I opened it, and the first thing I saw, was a picture of my friend. I read the letter and on it stood that they had my friend, and I should bring them 1.000 power cells, 5.000 artifacts and 10.000 batteries. I didn't have that much stuff, but I took what I had, put it in the table at the meeting place. The house began to burn, just like that, I think they put it on fire to lurk me out of it. I ran out, on my way out I saw a shadow running to the table. I turned around outside the building and saw the shadow leave. And I follow it, I ran all I could after him or her. Trough ruins, over hills, and I came closer and closer to the person. When I caught him he didn't have the bag with my things. I asked him where my friend was. he just replied that it wasn't enough. I asked him where my stuff was, and he just kept saying that it wasn't enough!"
The stranger begins crying again. But he continued with his whiny voice "I… I tortured him! How could I! But he could just tell me where I could find him then I would stop! It's against everything I believe in, a new and better world! But I tortured him!
Finally I ended his misery. I cut his trough throat and he died in few milliseconds. I have traveled ever since. Trying to get the stuff but I don't have it yet and I don't think I ever will. But I have looked for another way to save him. I haven't figured it out yet. I found documents, about those who have him. He has live as a slave for many years, and somehow ended in this cult. They use a lot of slaves. I will save them! One day. But it take time, and I need helpers. I can't do it alone.
Does or did your character have any companions or family? He had a friend a long time ago he cant remember his name but they lived together. His family were killed when he was 5-7 years old.
How old is your character? 16
Describe what your character looks like, any distinctive physical features? He got this suit he always has on, he got it when he lived in a desert for a while, and didn't get rid of it when he entered another biome. His suit is very dirty and he always wear his backpack. He doesn't smell good and is often not seen before you are right next to him, he learned a lot from hunting teaches when he was were young, he also lived by hunting in periods so he is very sneaky and is good with a gun.
How does your character act? Very Sneaky and doesn't trust strangers. But when you get to know him he is real sweet. He got a weird humor. And he is very intelligent. He likes traveling. He will surely someday find a place settling down with a family. He don't like being in very big open areas, he doesn't feel secure there, and in big groups he feel a bit unsecure.
Character's occupation: He travels the land, selling and buying stuff, he is trying to find a place for home, and someone he can call family, but right now he is searching for his family
Does your character have an education? (Read or write) He learned English when he was little but he makes some misspellings.
Any special skills that your character has, nothing unbalanced: Charisma, he is good with words, and a good hunter.
Does your character hate or fear anything? He don't like being too far underground. And he doesn't like big groups and big open areas. He is a bit scared of being attacked in those situations. He doesn't like melons but can eat them if it's a death or melons situation.
Describe an example of your character in great suffering and pain (RP):
Catan crawls down the ladder, deep down, its dark. He looks around, with his shotgun in his hand, nothing to see. He walks deeper down the caves he now is in. Totally silence, only the sound of his footsteps is to hear. He reaches a dead end and looks around, there is a hole in the ground and he can see some floor a meter down in the hole. "well, it's the only way" he thinks. He then jumps down and a big "bumb" sound fills his ears and the echo fills the caves. He then suddenly hears a "SSSSsss" sound a turns around, trying to pull the trigger but is too late. He screams, his leg, he can't feel his left leg! He looks down at the leg that now is bloody and broken. A tear roll down his chin. He tries to get up, before more fuel bots come, but fall and the pain is even worse. He sees a secure-drone, it crawls over to his body, he tries to get his gun, but it stands on his arms, beginning to bite him.
it becomes dark… the pain is to big! When suddenly, a light, everything is blurry, he hears some voices "grap the boy and lets go!" he feels his body grabbed in his arms, and getting dragged,
After that everything was black for Catan, until he some days after woke up in a tent with a doctor standing over him.
That is the story of Catan Bruce and his fear of deep underground caves. This is just one of many bad experiences with being deep underground.
Provide an image of your character's skin:
with a hat
without hat.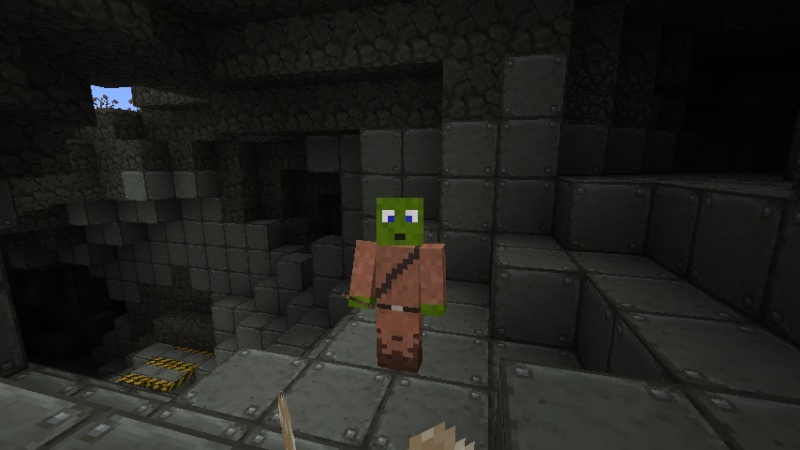 is it okay for me to use them both? if not i will just use the "With hat"
Fuck yo shit, i got a mustache, and cookies!!
Catan_Bruce wrote:

MineCraft account name: Casper98dk

Character name: (Last names aren't required)Catan Bruce

- *Snicker* *Snack* this is how I cut my apps -


Alright good, sorry if I wont be able to explain my reasons, since I am in work at this moment. I wanted to judge at least one of the apps, so to get one out of the way for later.
ACCEPTED
...with a catch, I cannot get on the server to approve you at this time but when I do I will be able to add you. Though be assured you will be added later on today.



Posts

: 55


Join date

: 2012-02-07


Location

: Invading the happy corner of your mind...



Sounds good! Awesome. Can't wait to get in an RP, the old Ruined World was one of the greatest servers i ever played on.
I hope i will be a good Character to have on the server, and create some lore! I just need someone to travel with but im surely gonna find someone when i get on the server

And i' m sorry if i have some grammatic errors. I dont really have a good excuse but im trying to keep them to a minimum.
EDIT: Is the server 1.1? and what is the IP? are you gonna PM that to me later?
and: should i make a post about my char in "Players and Characters" ,like you and many others, and write about diffrent things and what my Char is doing ATM?

EDIT: last question: can i use both skins?

Alright let me clear up your questions that you have.

Sure you can post up your character's story in that section (that is why we made it for), if you want to follow in the similar style that I have made for my character, that is totally up to your prefrerance.

Interchanging your skins should not be a problem so long as you don't change your name, or go vertigo with your character's personality. (example: "The mask made me do it...")

The server is 1.1 and if you updated you Minecraft, you have another option that we recomend. Get the Spoutcraft and it will play any server version without the hassle.

Lastly the server IP was in the first post of the Ruined World 2, on the Minecraft forum. Here it is again anyways.

Server IP: 68.44.169.238

I will have you added in about 15 minutes to the server.







Posts

: 55


Join date

: 2012-02-07


Location

: Invading the happy corner of your mind...



Black_Doom wrote:


Sure you can post up your character's story in that section (that is why we made it for), if you want to follow in the similar style that I have made for my character, that is totally up to your prefrerance.






i ment if i have to or it was my own choice.

but sounds good

cant wait

i will go get spoutcraft. Does it work with optifine or?
anyway i will type my Character on that section tomorrow or something like that



Similar topics
---
Permissions in this forum:
You
cannot
reply to topics in this forum